ITIL® describes 'best practices' for the effective and efficient delivery of IT services.
ITIL® – the IT Infrastructure Library – was developed in the late 1980s by the Central Computing and Telecommunications Agency (CCTA), a government agency in the United Kingdom:
Due to the poor quality of the IT services purchased by the British government, the CCTA was given the task of finding a way to improve them sustainably while reducing costs. Particularly expedient and economical methods for the provision of IT services were evaluated and brought together – in this way, the CCTA developed a comprehensive catalog of proven and exemplary best practices. This is precisely what is known today as "ITIL" and is accepted worldwide.
Traditionally, IT organizations focused primarily on technology, such as software and hardware. The requirements of the customers were not necessarily in the foreground. Against this background, the core idea in ITIL is that IT services must be aligned with customer requirements, and organizations explicitly agree with their customers on the services to be delivered.
ITIL supports organizations that want to align themselves with these recommendations with comprehensive descriptions of processes, functions, concepts and competencies. These include, for example, the widely known ITIL processes such as Incident Management, Problem Management, Change Management, etc.
Organizations implement the ITIL recommendations by translating them into concrete processes that work for their individual situation.
AXELOS, the current owner of the ITIL portfolio, offers a complete training and certification scheme that is used to train ITIL subject matter experts.
ITIL 4 – the latest ITIL® version – was released in February 2019. This first comprehensive revision of the ITIL framework since 2007 primarily addresses the latest trends in software development and IT operations. With the "ITIL 4 Managing Professional CPD" certification, Operaio already has two people with great expertise around ITIL 4.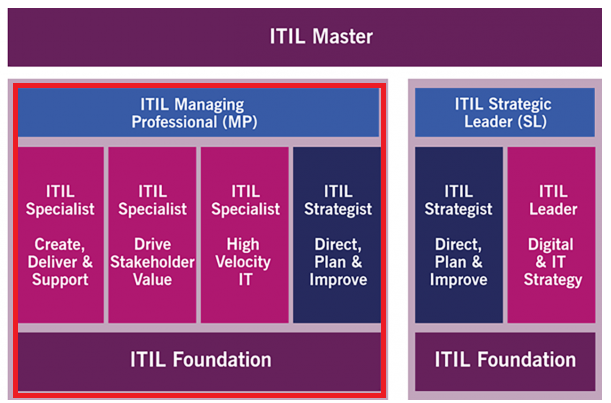 As a Managing Professional, we have already successfully passed the following certifications:
ITIL Foundation
ITIL Specialist "Create, Deliver & Support"
ITIL Specialist "Drive Stakeholder Value"
ITIL Specialist "High Velocity IT"
ITIL Strategist "Direct, Plan & Improve"
We would be happy to support you in the application or transformation to ITIL 4.